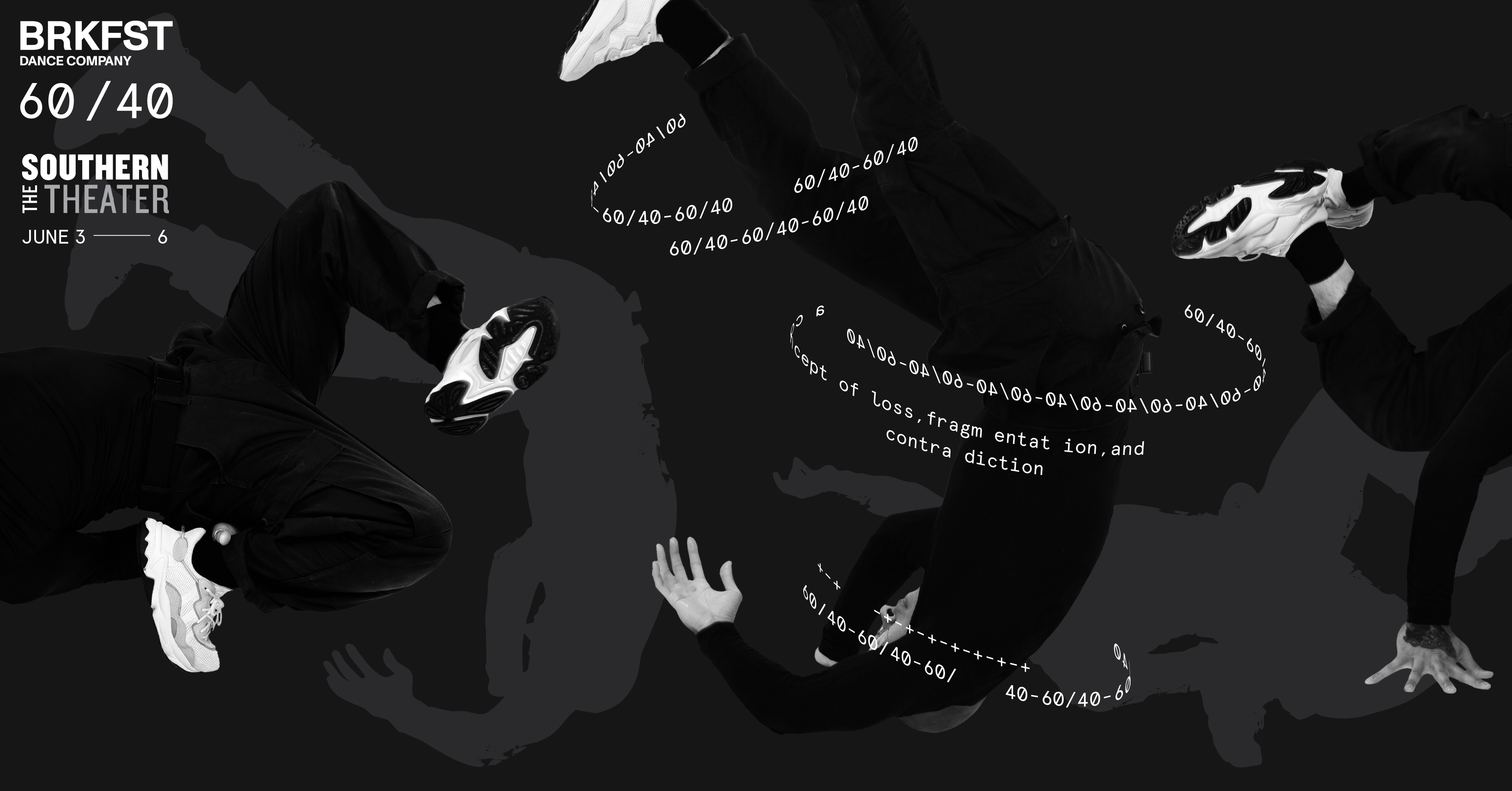 BRKFST Dance Company
60/40
60/40 examines the concept of loss, fragmentation, and contradiction. It addresses the push/pull of inner and outer dialogue we use to cope with unfamiliar circumstances. At times hindered by doubt, fear, and frustration, the innate remembrance of a distant wholeness pushes us to seek beyond these limitations.
$25 general admission
$10 student/child/senior
Pay-As-You-Can on Thursday's performance
SHOW DATES
Thursday 6/3 Doors 7pm / Show 7:30pm [pay as able]
Friday 6/4 Doors 7pm / Show 7:30pm [post show discussion]
Saturday 6/5 Doors 7pm / Show 7:30pm
Sunday 6/6 Doors 1:30pm / Show 2pm
About attending the show: Face masks will be required. The theater seats are marked off with social distance in place. The bar for beverages and concessions will be closed. If you are experiencing any COVID-19 symptoms or have recently been exposed or possibly exposed to someone with COVID-19, we respectfully ask that you do not attend. Please respect The Southern's COVID-19 protocols so that they may continue supporting live performance art. Thank you.
BRKFST Dance Company was founded in 2014 and based in Saint Paul/Minneapolis, MN. As a collaborative ensemble, BRKFST creates thoughtful, dynamic, introspective works combining highly physical breaking movement and contemporary dance vernacular to expand awareness on topics that address marginalized and underserved populations: the working class, queer identity, BIPOC identity, and their personal relationships to this country. BRKFST Dance Company articulates the lived experience of diverse and contemporary artists, contests society's expectations of their chosen form by placing breaking in unconventional environments, and complicates the medium of dance itself by incorporating abstract, narrative, and pedestrian movement into their impressive, rigorous, physically virtuosic compositions.
BRKFST teaches and performs in schools, libraries, museums, and concert dance venues, premiering work at the Walker Arts Center, Southern Theater, and Cowles Center. Their film "Dreamers" was deemed an official selection in ten international film festivals, receiving multiple accolades for Best Experimental Film and Grand Jury Award.