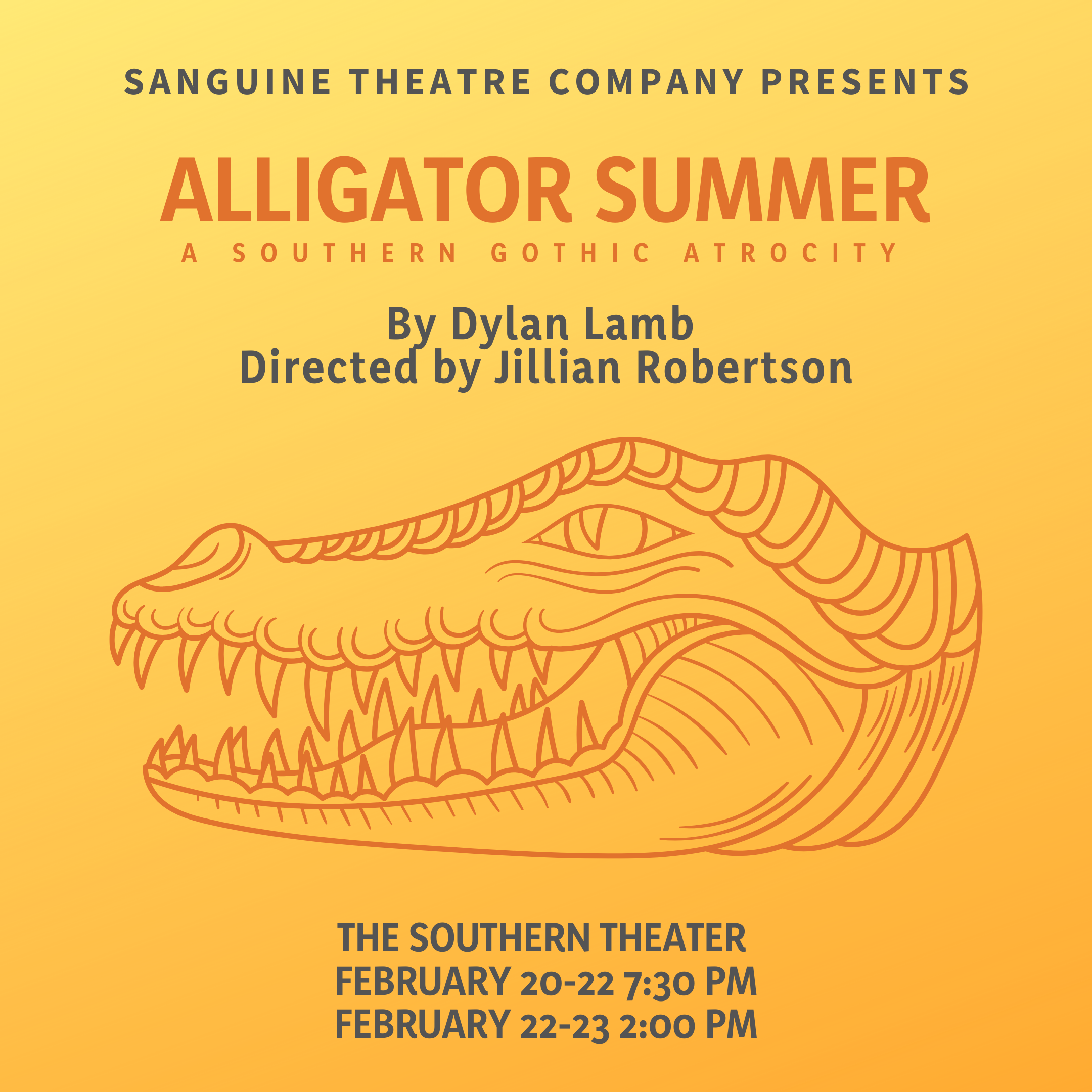 Sanguine Theatre Company
Alligator Summer
Written by Dylan Lamb
Directed by Jillian Robertson
Featuring: Gary Keast, Roberta Gibbons, Nora Targonski-O'Brien, Jacob Mobley, Marissa Ward, Brighid Burkhalter, and Joey Hamburger
Alligator Summer is a dark-dark-darkly comic memory play about young Antietam Julep coming of age during a reptilian rapture in 1940s Louisiana. Sequestered with his family, and the neighbors who have well-outstayed their welcome, Antietam discovers that the real blood-thirsty beasts are not the ones that lurk below. With wit, gore, sentiment, idiocy, archetypes, accents, and gators, Alligator Summer is the guiltiest of pleasures for the refined sadist in all of us.
"Alligator Summer draws from dark comedy, parody, melodrama, lyrical speeches, and the absurd. It most closely resembles a Martin McDonagh play set in Tennessee Williams' scrapbook. Through changes in style and tone, playwright Dylan Lamb's language provides a throughline. Lamb's words are in turn delicious and hilarious; he crafts an astute play with numerous moments of poignancy and hilarity."
- Theater Is Easy
Jillian Robertson is a recent Minneapolis transplant, having spent the last nine years in New York and Boston. She is a proud co-founder of the female-run Sanguine Theatre Company in NYC. As an independent director, she has worked with theaters all over the country, including Arena Stage, Theatre Latte Da, The Booth Theater at Boston University, and Judson Theatre. Currently Jillian is working as the Artistic Associate at Park Square Theatre. Jillian has an MFA in Directing from Boston University and a BFA in Theatre from the University of Oklahoma.
Dylan Lamb is a Minneapolis-born playwright and the recipient of the Chair's Award of Excellence in Dramatic Writing from NYU's Tisch School of the Arts. He has written for Warner Brothers Television as part of its inaugural Creative Lab, and was selected as fellow in Fresh Ground Pepper's PlayGroup fellowship in New York City. Other plays include Ten Way on a Gun, There is No Isabelle, and Private School. He now serves as the Creative Director at Bullseye Media in downtown Minneapolis.
Run Time: 100 minutes with intermission
| Date and Time | |
| --- | --- |
| Thu, Feb 20, 2020 7:30 PM - The Southern Ticketing | |
| Fri, Feb 21, 2020 7:30 PM - Pay What You Can | |
| Sat, Feb 22, 2020 2:00 PM - The Southern Ticketing | |
| Sat, Feb 22, 2020 7:30 PM - The Southern Ticketing | |
| Sun, Feb 23, 2020 2:00 PM - The Southern Ticketing | |