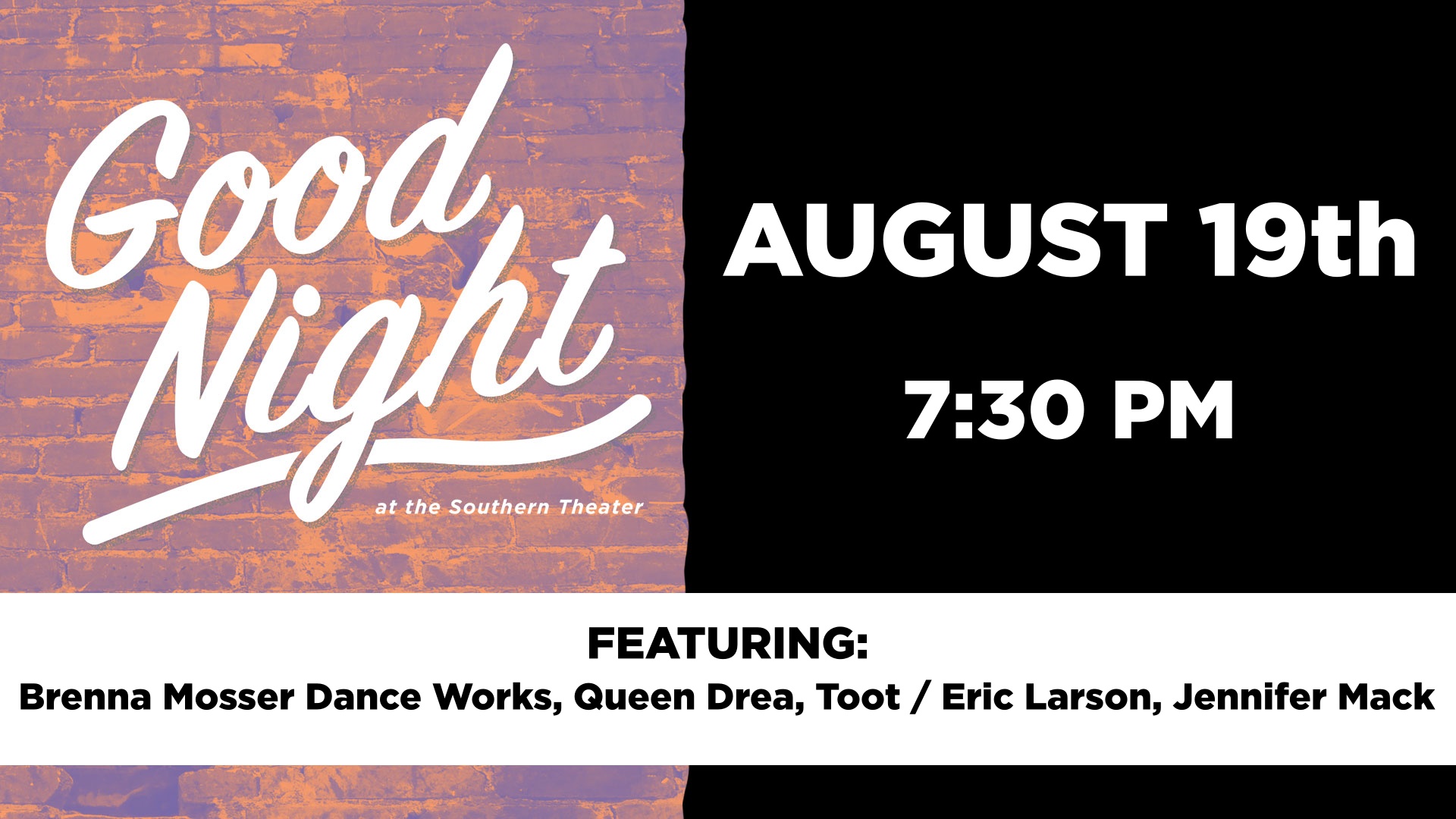 The Southern Theater
Good Night at The Southern, August 19
Good Night at The Southern features local artists sharing new ideas, works in progress and previews of upcoming performances.
August 19 will feature: Queen Drea, Jennifer Mack, Brenna Moser Dance Works, and Eric Larson/Toot!
All Tickets are Pay What You Can!
Starting at 6:30, you can join us at the bar for a local beer, glass of wine, pop, or a snack!
Queen Drea with Ryan-Olivia McCoy and Jianna Reynolds will present "From Black Wombs" Afro-futurist sisters navigate a bleak world where due to AmeriKKKa's school to prison pipeline, there are no black men. The stress from this reality has left them disoriented and barren. Using poetry, electronica and movement they seek to heal their wombs by laying waste to the prison industrial complex and giving birth to a NEW America.
Eric Larson/Toot will be presenting Tweezer Burn, a new work in progess that will be premiering in February 2020!
Toot is a whirlwind of collaborators, ideas, and practices led by Eric Larson. They consider overlooked energies of contemporary life by making work about how we think, how we are influenced, and how conventions shape our perceptions of each other.
Jennifer Mack will be presenting three new dance works along with dancer, Hannah Benditt. A duet, No Words Just Cut in Two recently prepared and presented as a part of the 16 Feet Dance Festival and Dances at the Lakes Festival which is based off the connection of two family members over space and time. The solo Occultation explores losing your grounding, feet or self so to speak and trying to find it again from the perspective of yourself or the audience. The third piece is a brand new work!
Brenna Moser Dance Works (BMDW) will be presenting Serve Id: A modern dance quartet inspired by whitetail deer that investigates natural environments found in Minnesota.
BMDW is committed to providing a thought-provoking intersection between dance and science. Their goal is to incite a dialogue within the community on the relationship between the facts of our present and the visions of our future.