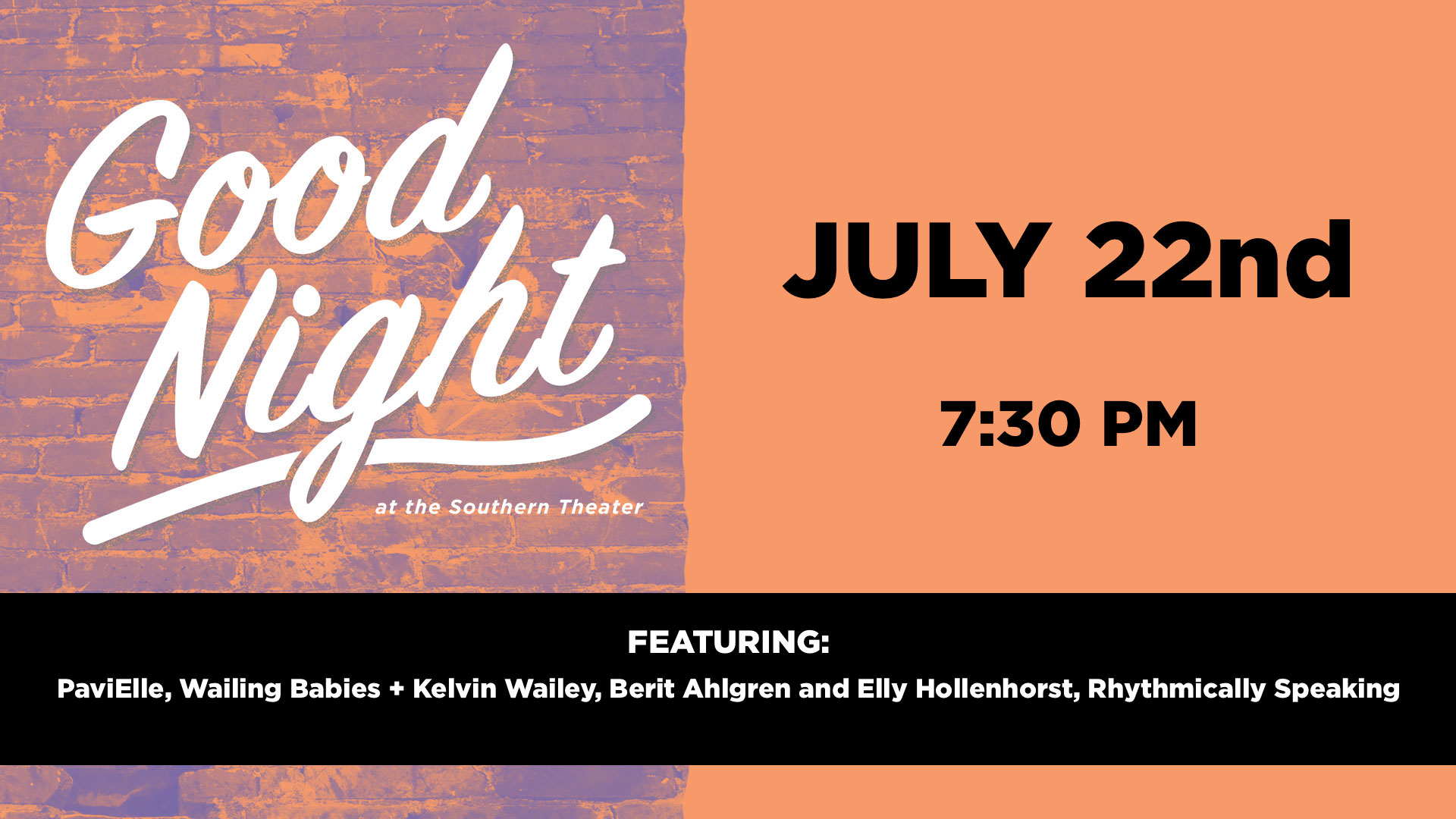 The Southern Theater
Good Night at The Southern, July 22
Join us on Monday, July 22nd at 7:30pm for the next installment of Good Night at The Southern!
Featuring: PaviElle, Wailing Babies + Kelvin Wailey, Berit Christina Ahlgren and Elly Hollenhorst, and Rhythmically Speaking
Tickets are sold at the door and are Pay What You Can.
Starting at 6:30, you can join us at the bar for a local beer, glass of wine, pop, or a snack!
Follow the Facebook event page for more updates and info!: Facebook Event Page

PaviElle is an amazing interdisciplinary artist, hailing from Rondo, a historically Black neighborhood in St. Paul, Minnesota. She is the recipient of an Upper Midwest Emmy Award as well as, a Sage Award for Dance and Choreography. She most recently has won an American Composers Forum Grant funded by the Jerome Foundation for her classical composition, A Requiem for Zula (2019) written in celebration of her Mother. She will be doing musical improv and debuting new music.

Wailing Babies is a collective comprised of Maggie Bergeron, Nora Jenneman, and Jamie Ryan-Karels. They create and perform work together, in a spirit of responsiveness to each other and their environment. They are grateful to Kelvin Wailey for bringing them together and making Wailing Babies real. Their piece is about the ritual of settling in, putting down roots, and making do with what you've got.

Berit Ahlgren and Elena Hollenhorst will present a preview of Interlace, which will be performed in full at The Southern on August 22-24.Native to St. Paul, MN, Berit Ahlgren gained her foundational dance training from Minnesota Dance Theater. She was a founding member of TU Dance and later had the opportunity to study the Gaga Movement Language in Tel Aviv, and moved to Israel to pursue a teacher certification between 2011-2012. Ahlgren obtained her MFA in Dance from NYU/Tisch School of the Arts in 2016, and has been performing, choreographing, and teaching between the Twin Cities and New York City ever since. Elena Hollenhorst studied at the Jerusalem Academy of Music and Dance in Jerusalem, Israel and received her BFA in dance from the University of Minnesota, Twin Cities. Originally from St. Paul, MN, Elena is currently based between the Twin Cities and Tel Aviv where she is studying Gaga and other movement techniques. She performed professionally with Jerusalem Dance Theater, Black Label Movement, and many freelance projects both stateside and abroad.

Rhythmically Speaking (founded 2009) engages people in staged works inspired by jazz and American social dance forms united by a core of rhythmicity (rhythmicallyspeakingdance.org). Artistic Director Erinn Liebhard grew up social dancing at her dad's rock band's gigs and is now a Twin Cities-based dance artist active in performance and education (erinnliebhard.com). She is inspired by and moved to share how deeply the elements of groove, interaction and improvisation shared by jazz and American social dance forms connect people to themselves, one another and the moment. Rhythmically Speaking will be presenting Feist(meist)er, one of the four works being presented in their reimagined annual summer production, The Cohort, running August 15-17 at The Southern.