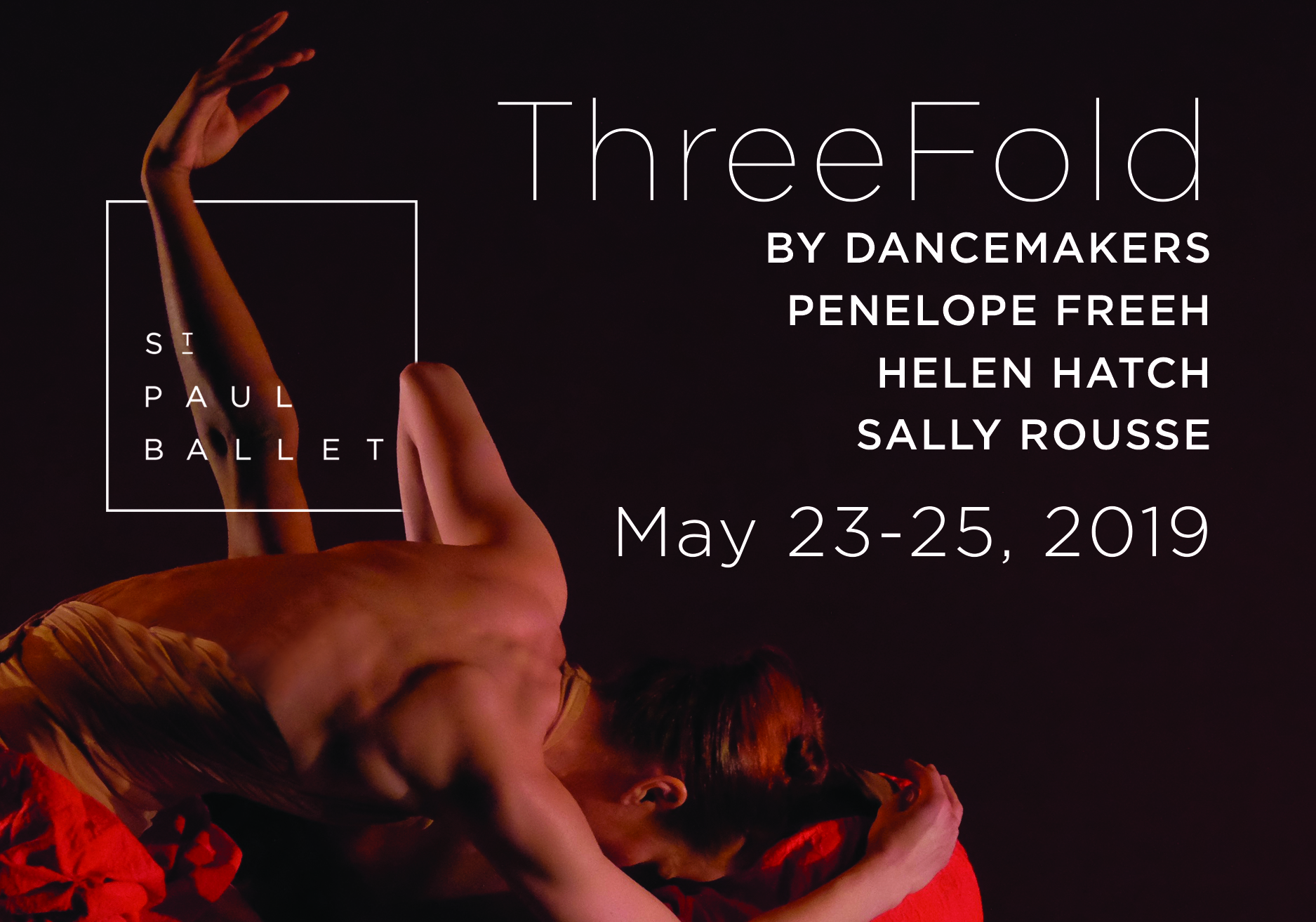 St. Paul Ballet
ThreeFold
ThreeFold brings together seasoned dance makers Penelope Freeh, Helen Hatch, and Sally Rousse, united by mutual admiration and inspiration of legendary dancer and teacher Bonnie Mathis. The new dances will feature some of the Twin Cities' most acclaimed dancers with live and recorded music (Seth Conover of the band Poolboy with Micah Patchin, Beethoven, Gorecki, Weill).
Presented by St. Paul Ballet
Thursday, May 23 7:30pm General Admission
Friday, May 24 7:30pm General Admission
Saturday, May 25 2pm Pay As Able!
Saturday, May 25 7:30pm General Admission
General Admission $23 in advance, $28 at the door
Student/Senior $13
*Senior discount for 65+
Run time: 90 minutes
About the work:
Simple Folk, a quartet first created in 2009 by Penelope Freeh, is reimagined for ThreeFold. Featuring Freeh, Da'Rius Malone, and original cast members Chris Hannon and Sally Rousse, the work uses folk songs transcribed by Beethoven to support various characters, enabling the dancers to embody experiences from the sublime to the ridiculous. With subtle humor and wistful melancholy, Simple Folk waxes nostalgic about profundities large and small. Simple Folk's strongly drawn characterizations align with Bonnie Mathis's famed performances of the psychological ballets of Antony Tudor.
Choreographer Helen Hatch, fresh off the success of 2018's Isotope joins forces once again with musician Seth Conover of Poolboy for the premiere of The Machine Stops featuring dancers Berit Ahlgren, Kacey Hauk, Elayna Waxse, with an original score played live by Conover and Micah Patchin. Hatch and Conover use E.M. Forster's 1909 science fiction short story The Machine Stops as a catalyst for the new work. Hatch, who received her early training from Mathis, collaborated with Freeh in the recent show Tuxedo and often mentored by Rousse, recently founded Hatch Dance, a vehicle for her contemporary choreography.
Sally Rousse creates Reckoning Agents, a trio drawing inspiration from the second oldest profession: spying. The embodied gestural movement is driven by the pulsive, sound score with references to a few of the Tudor ballets Bonnie Mathis performed (Lilac Garden and Judgement of Paris). Guest artist Dmitri Peskov is joined by JSB's Eve Shulte and Rousse. Reckoning Agents is Rousse's second commission from St.Paul Ballet, following SHRE in 2016.
About the choreographers:
Sally Rousse received two McKnight Fellowships for Dancers, a Sage Award for Outstanding Performer and was named Artist of the Year by CityPages. She co-founded James Sewell Ballet in New York City in 1990, serving as its managing director and artistic associate throughout its move to Minneapolis in 1993. Her choreography has been seen in both theatrical and commercial venues such as the Guthrie, Southern, and State Theaters; the Walker Art Center, MASS MoCA, the Cartoon Channel, and Harvard's American Repertory Theatre. Since leaving JSB in 2014, Rousse's site-specific work has taken dance off the tradition stage and featured artists who identify as LGBTQ, gender fluid, mature, disabled, female, native, and/or POC. As the Cowles Center's first Artist in Residence, she engaged the community through free workshops, art installations, tours, discussions, and the acclaimed promenade performance ICON SAM: Temple Dances. Rousse performed as a leading dancer with the Royal Ballet of Flanders and Ballet Chicago, dancing works by Maurice Béjart, Jiri Kylian, and over 75 new works created on her by contemporary and post-modern choreographers.
Helen Hatch is an independent dancer and choreographer based in Minneapolis. Named as one of Minnesota Monthly's "10 Artists to Watch" in 2012, Helen was a member of Minnesota Dance Theatre from 2011-2017, dancing an eclectic range of repertory while also creating her own work. Helen is a graduate of the Ailey/Fordham BFA program where she was awarded Dance Departmental Honors. Her choreography has been presented at the Ailey Citigroup Theater, the 2011 Jacob's Pillow Inside/Out Festival, 2014 MN Fringe Festival, The Southern Theater, throughout Mexico and Guatemala by the Juntos Collective, and commissioned by Minnesota Dance Theatre, Saint Paul Ballet, Penelope Freeh, and Aveda. Helen is the Founder and Director of Hatch Dance, whose debut performance Isotope was named a "2018 Top Ten Twin Cities Dance Performance" by the Star Tribune.
Penelope Freeh has been part of the Twin Cities dance community since 1994. She is a two-time McKnight Fellow for Choreographers, a McKnight Fellow for Dancers, and Sage awardee for Outstanding Performer. Her work is in the repertoires of James Sewell Ballet (where she danced for seventeen years), Zenon Dance Company, Minnesota Dance Theatre, Alternative Motion Project, Minnesota Ballet, and Gem City Ballet among others. Test Pilot, a chamber dance opera created with local composer Jocelyn Hagen, won a Sage Award for Best Overall Design. Currently an MFA in Dance candidate at Hollins University, she teaches at the University of Minnesota, the St. Paul Conservatory for Performing Artists, Zenon, and TU Dance.