10//X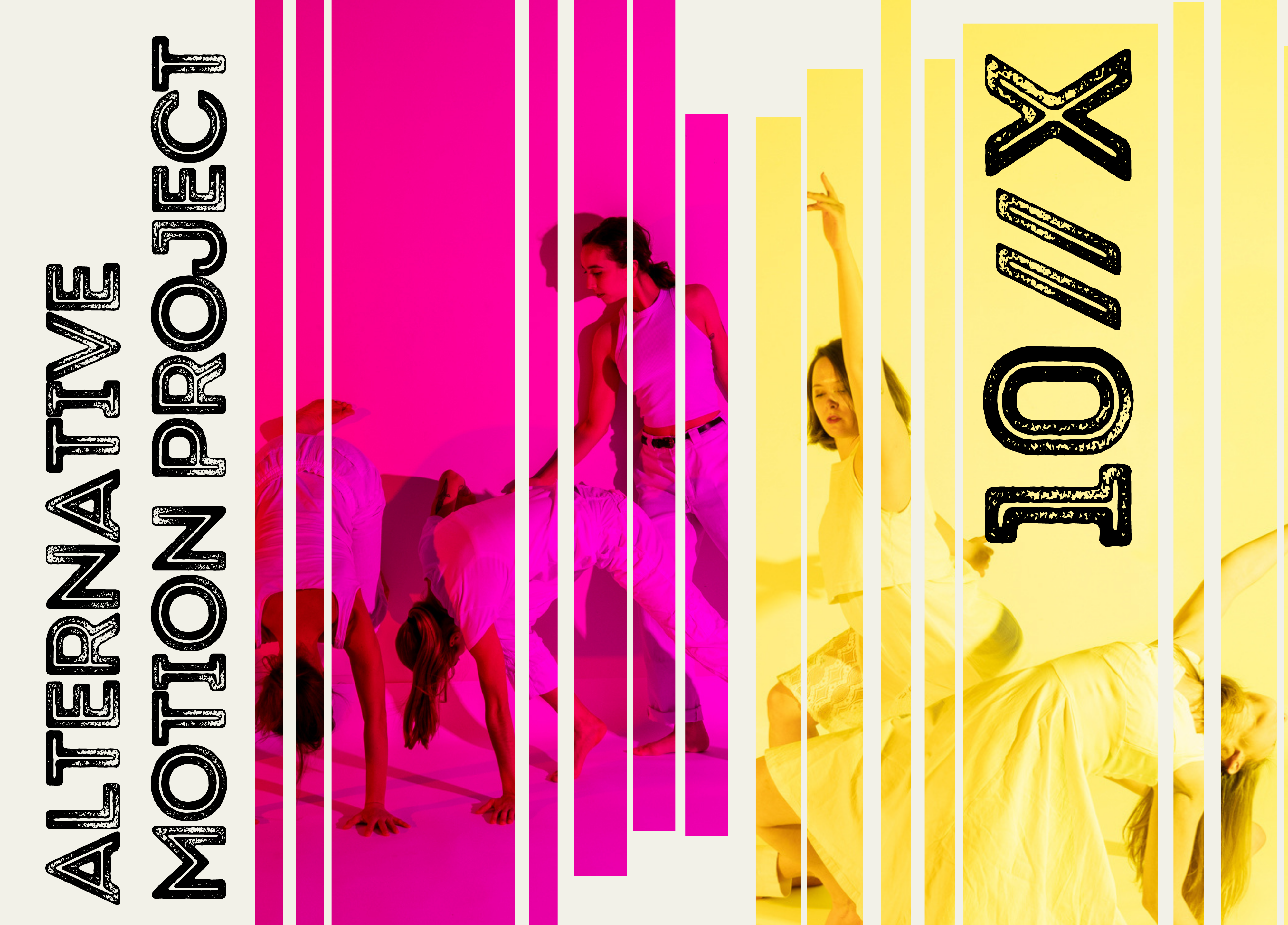 Alternative Motion Project
10//X
AMP makes a thrilling + long-awaited return to live performances for 10//X to celebrate our milestone 10th Season Performance. Featuring five distinct original works, the electrifying evening of contemporary dance investigates a range of concepts relating to rhythm + groove, landscapes + climate issues, joy, paradox, and transcendence. 10//X showcases AMP's dynamism and intense physicality that will inspire + delight
audiences as we move BIG into the next decade.

This is Alternative Motion Project's first live, indoor, in person theatrical event since canceling our 9th Season Performance in March 2020 due to COVID-19. 10//X will also be Kristin Howe's last performance acting as AMP's Co-Artistic Director.
See a preview video for 10//X here.
WORLD PREMIERES
Kristin Howe // Joanna Lees // Erinn Liebhard // Brenna Mosser

FEATURED COLLABORATIONS
Dameun Strange // Sound
Cole Sarar // Spoken Word

COMPANY
Stephanie Flanagan // Laura K Johnson // Zoë Koenig // Julia Moser-Hardy // Brenna Mosser // Erin Ross // Jesse Schmitz-Boyd // Addie Smith // Bridget Tegen // Lauren Vanchina

WHEN
Friday, March 18th - 7:30pm
Saturday, March 19th - 7:30pm
Sunday, March 20th - 2:00pm // Post Show Q + A, Pay-as-Able, + ASL Interpreted

TICKETS
General Admission - $20 in advance | $24 at the door
Senior - $18 in advance | $22 at the door
Student//Children under 12 - $18 in advance + at the door

An online/on demand viewing option will be available through AMP's website March 23rd- April 1st. More information and ticketing link can be found here.
PLEASE NOTE:
Mask-wearing is mandatory for all attendees.
We will require either proof of a completed COVID-19 vaccination regimen or proof of a negative COVID-19 test (taken within 72 hours of the event).
The COVID-19 vaccination card must show a completed regimen that concluded at least 14 days before the date of the event.
Proof of vaccination or negative COVID-19 test must be shown at time of entry and must match the ticket holders ID.
Attendees may present a physical vaccination record card, a physical negative test result, or a digital document on a mobile device (such as a photo image of a vaccination record card or the Docket app).
Photo Credits - Bill Cameron
Performances:
Date and Time
Fri, Mar 18, 2022 7:30 PM - AMP
Sat, Mar 19, 2022 7:30 PM - AMP
Sun, Mar 20, 2022 2:00 PM - Pay What You Can
Post-Show Q&A, ASL Interpreted