7th Annual CANDY BOX Dance Festival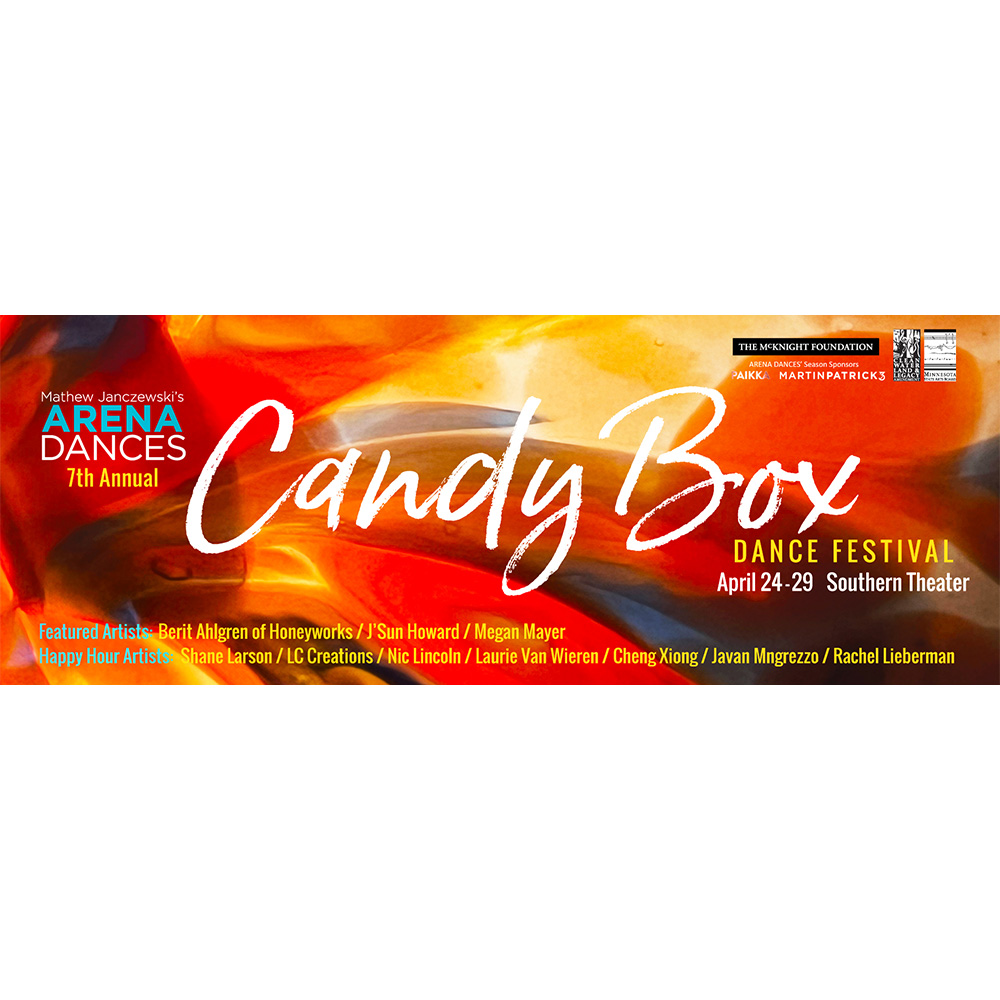 Arena Dances
7th Annual CANDY BOX Dance Festival
The CANDY BOX Dance Festival, presented by Mathew Janczewski's ARENA DANCES, is an annual, week-long, eclectic gathering and dynamic sampling of featured performances, masterclasses, and work-in-progress showings.
CANDY BOX Dance Festival is a unique celebration of dance, packed with a wonderful assortment of various tastings that include renowned choreographers, accomplished dancers, and fresh movement styles all perfectly packed into one sweet treat of a week. It is an opportunity for diverse emerging and established artists to share the performance stage, with the addition of selected artists leading intimate workshops to offer a welcoming space for communal movement education, and in doing so gathering a range of tastes for varied audiences. From Featured Artists performances by nationally notable choreographers and collectives, to Happy Hour showings by exciting local dancers and emerging creatives, CANDY BOX is sure to offer a flavor for every performing arts enthusiast to savor and enjoy. Along with daily performances and masterclasses hosted throughout an impressive six day streak, question-and-answer sessions are offered for additional insight and rare sneak peeks into the engaging works created and designed by each artist exclusively for the festival. Audiences are sure to experience a wide array of artistry, offering a unique flavor in every bite.
"Establishing a career in dance can be challenging and isolating. That's why coming together every year like this is so crucial; it creates the learning opportunities and personal connections people need in order to realize their full artistic potential. And by extending the support of the dance community to the next generation of talented makers, we help keep the scene vital and strong." – Mathew Janczewski, Founder + Artistic Director of ARENA DANCES
FEATURED ARTISTS:
Berit Ahlgren (HoneyWorks)
J'Sun Howard
Megan Mayer


HAPPY HOUR ARTISTS:
Lily Conforti
Shane Larson
Rachel Lieberman
Nic Lincoln
Javan Mngrezzo
Laurie Van Wieren
Cheng Xiong


The Southern Theater is not running Box Office for this event. For any ticketing questions, please reach out to Arena Dances directly at their contact page.
Purchase Tickets