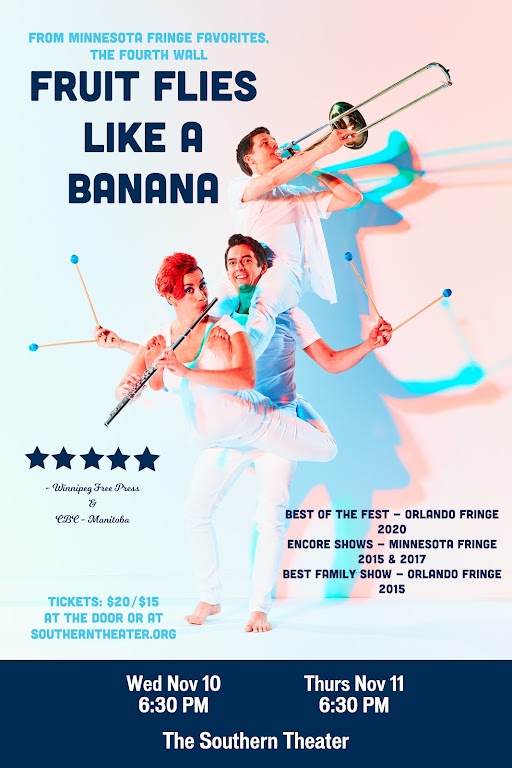 The Fourth Wall
Fruit Flies Like a Banana
Minnesota Fringe favorites The Fourth Wall (AKA "The Fruit Flies") return for their first in-person performances in Minneapolis since 2018. Don't miss the interactive, family-friendly, high-art shenanigans!
3 Performers. 20+ Pieces. 60 Minutes
Few musical ensembles earn top marks for their "deft choreography," (The Wall Street Journal) but this is no ordinary ensemble. Part chamber music group, part devised theatre company, part modern dance troupe, part circus act, The Fourth Wall blends music, theatre, dance, and acrobatics into a new hybrid art form. In Fruit Flies Like a Banana, this trio of musicians presents new interdisciplinary works and reinterprets classic repertoire - all performed in an order chosen by the audience - to make music that leaps off the stage. Time Flies Like an Arrow...Fruit Flies Like a Banana!
The Fourth Wall:
Hilary Abigana, flute
C. Neil Parsons, bass trombone
Greg Jukes, percussion & accordion
"Serious music by seriously talented musicians in a show that doesn't take itself seriously at all." -CBC MANITOBA
"My 11-year-old leaned over and said, 'These people are really talented.' She totally refused to see this show, but I dragged her. Afterwards, she couldn't stop talking about it." -AUDIENCE REVIEW, MINNESOTA FRINGE 2015
No one turned away for lack of funds. Please email thefourthwallensemble@gmail.com to inquire about Pay What You Can options.
**Please note: at the artist's request, all attendees 12 and older must show proof of vaccination or a negative Covid test within 72 hours of performance date**