L'Heure de Minuit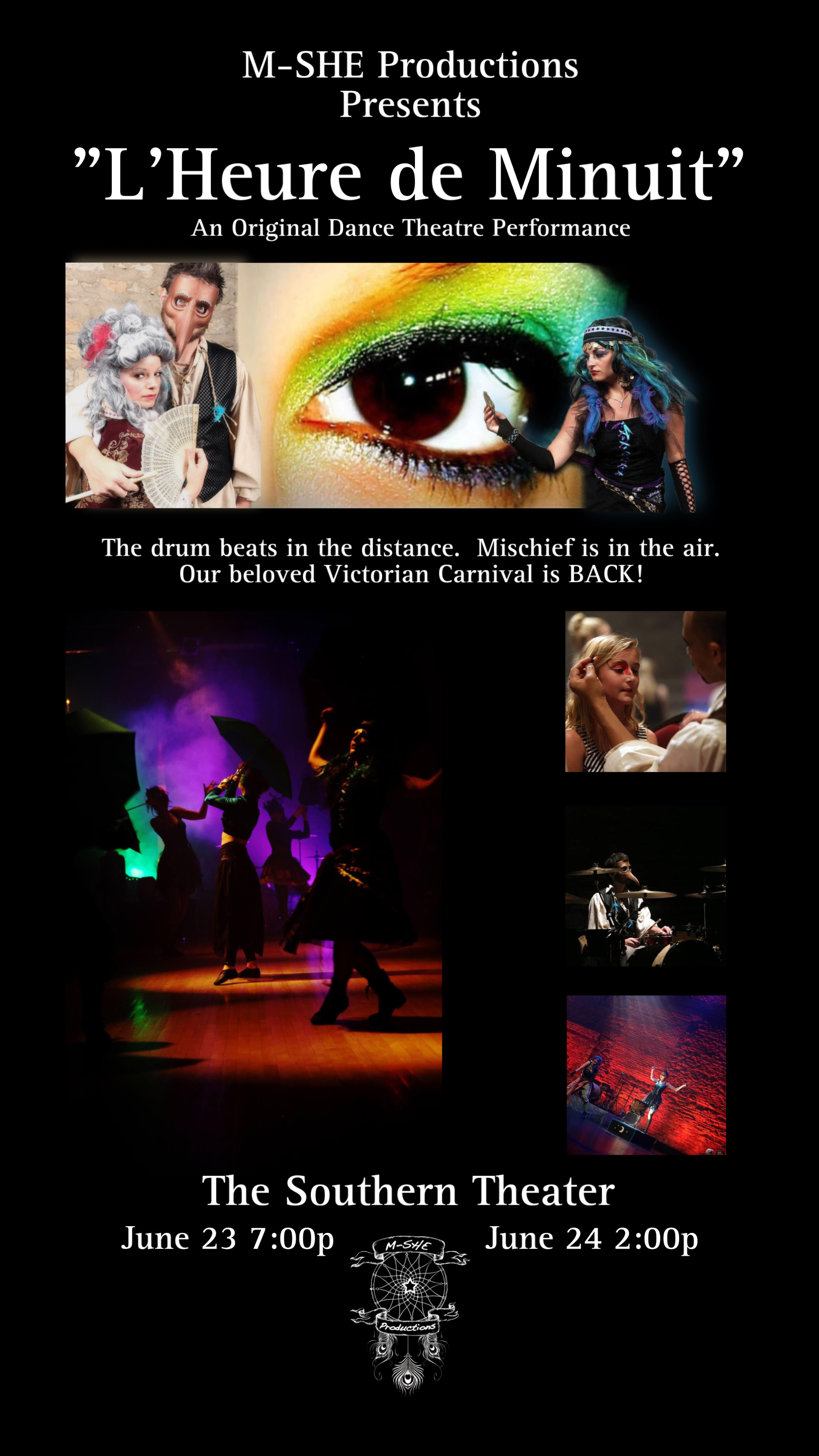 M-SHE Productions
L'Heure de Minuit
Performance Dates: Fri. June 23 | House 6:30PM, Show 7:00PM, Sat. June 24 | House 1:30PM, Show 2:00PM
Performance Length: Approximately 90 minutes with an added intermission for carnival games/activities
STEP RIGHT UP LADIES AND GENTS-M-SHE PRODUCTIONS IS COMING YOUR WAY!
​
In an Epic Celebration of 10 beautiful years passing since M-SHE Productions first created "L'Heure de Minuit," we are loading up the train cars and heading back to the stage with our Full Production! The Carnys are up to no good and the Victorians are no longer hiding behind their fans. "L'Heure de Minuit" is an original theatrical interactive victorian carnival performance. With live bone shaking music, whimsical dancing (tap, jazz, contemporary, musical theater, hip hop, and acro), side show acts, carnival games, and fabulous prizes... There's truly something for everyone. But be warned, you might be lured into the Carnival!
We will be pulling up to The Southern Theater and unleashing the festivities to audiences of all ages. Yes, you heard right, this is a family friendly show. So, if your little one likes to play games, dress up, see mythical creatures, win prizes and your granny likes to shake a tail feather or just enjoy the view, we have a spot for them and you!



See that closet across the way from you… tear it open and pick an outfit of choice: an old halloween costume, renaissance wear, dance attire, or something wacky you put together… get it on and jump in a seat, you too can be in the running for best costume in the audience!
Bring your $1 bills for additional game tickets, we've got prizes galore and a fortune teller who knows all your cards.
Tickets:
*VIP $42 Receive Signed Cast Photo & 4 Game Tickets
*General Admission $36 Receive 2 Game Tickets
*Seniors (Age 62 and older) $32 Receive 2 Game Tickets
*Children 12 and Under $26 Receive 2 Game Tickets
Performances:
Date and Time
Fri, Jun 23, 2023 7:00 PM - M-SHE Productions
House 6:30PM | Show 7:00PM
Sat, Jun 24, 2023 2:00 PM - M-SHE Productions
House 1:30PM | Show 2:00PM