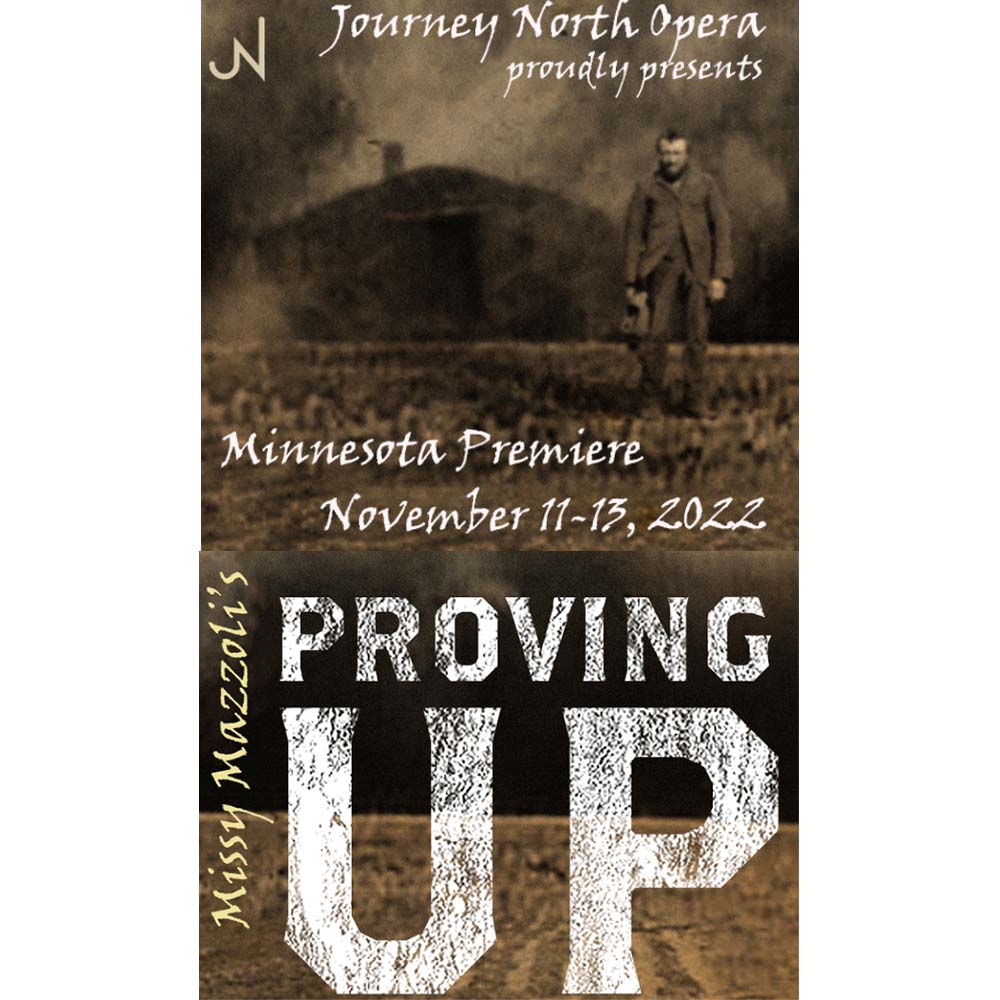 Journey North Opera
Proving Up
Journey North Opera Presents Missy Mazzoli's Proving Up, a new American opera
Music by Missy Mazzoli
Libretto by Royce Vavrek
Based on a short story by Karen Russell
The Zegner family have met nearly every stipulation of the American Homestead Act of 1862 - a house of sod, acres of grain, five years of harvest - to say nothing of the crushing sacrifices they've made while trying to survive a multi-year drought...Only one crucial item remains before they become landowners: a glass window, scarce and fragile, must adorn their mound of parched earth.
Described by The Washington Post as "harrowing...powerful... a true opera of our time", Proving Up's visceral soundscape and stirring prose pulls the audience through the barren prairie, ripping the veil off of the "American Dream" and exposing its hidden, extraordinary costs.
Please join Journey North Opera as we present the Minnesota premiere of Proving Up.
November 10 at 7:30pm (Pay What You Can performance featuring understudy cast, door sales only)
November 11 & 12 at 7:30pm
November 13 at 2:00pm
70 minutes, no intermission
Tickets $25 general admission
$20 for students (use discount code "student" at checkout! Be sure to omit quotation marks.)
Sung in English with English supertitles
Recommended for ages 12+
***Photosensitive patrons should be advised that a strobe effect will be used for approximately 10 seconds at the end of scene five following the line "the world is pitch black"
***A note on Covid Procedures for these performances from Journey North Opera: Journey North Opera requires guests to wear a mask at all times while in the theater. Guests may unmask while in the lobby. At this time, we are not requiring proof of vaccination, but this policy is subject to change as we follow CDC guidelines.
Date and Time
Thu, Nov 10, 2022 7:30 PM - Pay What You Can (Door Sales Only)
Doors 6:30pm | House opens 7pm (Pay What You Can Performance featuring understudy cast, door sales ONLY)
Fri, Nov 11, 2022 7:30 PM - Journey North Opera
Doors 6:30pm | House opens 7pm
Sat, Nov 12, 2022 7:30 PM - Journey North Opera
Doors 6:30pm | House opens 7pm
Sun, Nov 13, 2022 2:00 PM - Journey North Opera
Doors 1pm | House opens at 1:30pm